Born on Maui, Jerry graduated from Maui High School. Right after high school, he joined the military and attended basic training at Fort Ord, California. After completing his first tour of military duty in Germany, December 1968-1970, he traveled throughout Germany, Denmark and Norway. On his last tour of duty, stationed in Saigon, Vietnam, Jerry found out what war was all about – and most importantly, the value of life.
After the military, Jerry returned to Hawaii. He had what he refers to as, his 'dark years on Maui," until he met his wife. Jerry grins and says she "took care of me" and together they moved to the Big Island. Together they raised two accomplished daughters. Their first born daughter has a Master's Degree in psychology; while his younger daughter will finish her Bachelor's Degree in psychology within the year, in addition to a great college basketball career.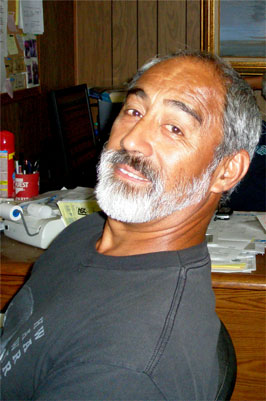 Jerry also worked as a lineman for the phone company in Honolulu and on the Big Island. He attributes much of what he knows to Joe Benavides and Ernest Wilson, his C & A Generator co-workers. Jerry says, "Ernest Wilson could do anything. I learned a lot from both of them."
Jerry is currently the manager of C & A Generator Services, Inc., and works closely with Chris, the company owner. Jerry's years of experience in the power generation field with the company has allowed him to service his customers in the best way possible: by providing excellent customer service through equipment knowledge and years of personal experience to recommend the perfect equipment for any situation.
Recently, Jerry built a roomy new workshop for his projects where he enjoys working with native Koa wood. But, you don't have a full picture of Jerry until you know that he is an avid surfer. He has a few favorite spots and makes surfing part of his routine.
Jerry's built his home and life here on the Big Island. For over 25 years Jerry has worked side by side with Chris, owner of C & A Generator, Inc. and says "Chris has taken good care of me and my family."