Born and raised in Hilo, Chris's early years were very similar to many locals at that time, going to the beach, hanging out with his buddies and fitting in school when he could. Chris graduated from Hilo High School and, like all his friends, began looking for his own way through life. After spending time picking papayas for his uncle, Chris realized there was more to life than what was happening on the rock in the middle of the ocean. With some planning and the prospects of seeing the world, he decided to join the military. After joining the U.S. Airforce, Chris trained at the Air Force's Power Production School in Shepardville, Texas. From there, his aspirations to see the world resulted in spending four years in Taiwan and other areas overseas.
After leaving the service, Chris contracted with the U.S. Government to work on Kwajalein Island in the Marshal Islands for two years. Once returning to Hawaii, Chris worked for the local telephone company, then Pacific Machinery, and from there, moved onto Atlas Electric for 4 years.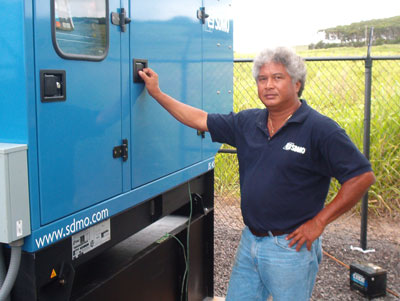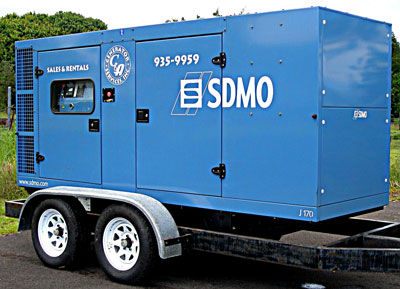 In 1977, Chris started C & A Generator Services as a sole proprietor and then incorporated in 1980. Focusing primarily on repair work, C & A Generator Services became an Authorized Onan generator repair company in 1980. Kohler purchased SDMO and with factory based training from SDMO and with his past experiences, Chris established a broad base of maintenance contract work with the local, state and federal government sites and local industry thereby providing critical power back up services for the Big Island of Hawaii.

In 2000, Chris realized there was an unmet need for rental generators, especially during natural disasters and any other emergencies, and stepped into the Quiet Power Generator rental market. Currently, C & A Generator Services, Inc. has an active rental fleet of 7 Trailer Mounted Generators from a 40KW to a 230KW.
In addition to his extensive work in the power generation field, Chris has become an active member in the community. He was the 1980 Past President of CU Hawaii Credit Union, an early board member for Kanoelehua Industrial Area Association. Since 1996, he is has been an active participant with the Ku'ikahi Mediation and now also sits on the Board of Directors.
Chris shares his love for the ocean and for the outdoors. He has been a member of several Canoe Clubs and often volunteers his time and personal boat transport supporting youth paddling clubs. Chris continues to support various community projects and especially those to benefit the youth.